I have been working on a device to carry out discharge tests on batteries, a battery cycler. The original inspiration for this project is here;
http://www3.telus.net/nook/balancerland/cycler/index.htm
It is a analog circuit designed by Lee Hart. I have laid out the circuit on a breadboard and made a start on trouble shooting faults, mostly my mistakes.
Anyway, I had to put this aside for a while and started thinking about an alternative approach. What I have come up with is a device based on an Arduino board (
http://arduino.cc/
).
I have tried to follow Lee's design concept and reading it will help in understanding how my cycler should work. Lee's design uses lots of inexpensive components but requires a bit of time to assemble. Also it has lots of adjustments that have to be set by the end user for their particular battery that they wish to test. My device uses fewer components, but is still reasonably priced. The Arduino is an open source project, I am actually using a clone, Freeduino. The user inputs all the setup information with a single pot and push button. So a very simple user interface. The display is any television or monitor, NTSC and PAL are both supported. This is achieved with a TellyMate shield(.
http://www.batsocks.co.uk/products/Shields/TellyMate%20Shield.htm
). For those not familiar with Arduino's, shields are small pcb's that stack on top of arduinos. On top of that I have stacked a protoshield.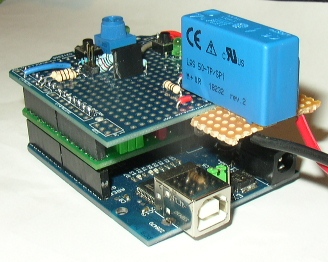 At the moment it can read battery voltage and current, work still needs to be done to calibrate it though. It then controls 2 IGBTs to charge and discharge the battery, have a look at Lee's schematic in the first link above. I tried to directly control them from the arduinos pmw outputs, but they require more than 5 volt. However the Arduino did manage to barely turn on the discharge IGBT and control it as best it could, so it is looking promising.
A screen shot;
A schematic and the arduino sketch (program) can be found here;
http://www.go-ev.co.uk/projects/batteryCycler/
Still lots of work to do, but so far looks promising. Any comments, tips, etc., welcome.
Greg
EDIT 9 Jan '10: Fixed broken link to Lee Harts battery balancer project